Notice: Trying to access array offset on value of type bool in /var/www/html/wp-content/themes/tech-stuff/includes/aq_resizer.php on line 98 Notice: Trying to access array offset on value of type bool in /var/www/html/wp-content/themes/tech-stuff/includes/aq_resizer.php on line 99
Signup to receive the online magazine here
Tech Stuff is dedicated to the latest business technology products for the home & office - updated monthly - unsubscribe at any time - keep in touch - FREE for early adopters - plus a chance to win a funky robot!
SIMPLE SIGNUP HERE
Airpods Pro controls, and why they are Sexy in bed!
7-Mar-20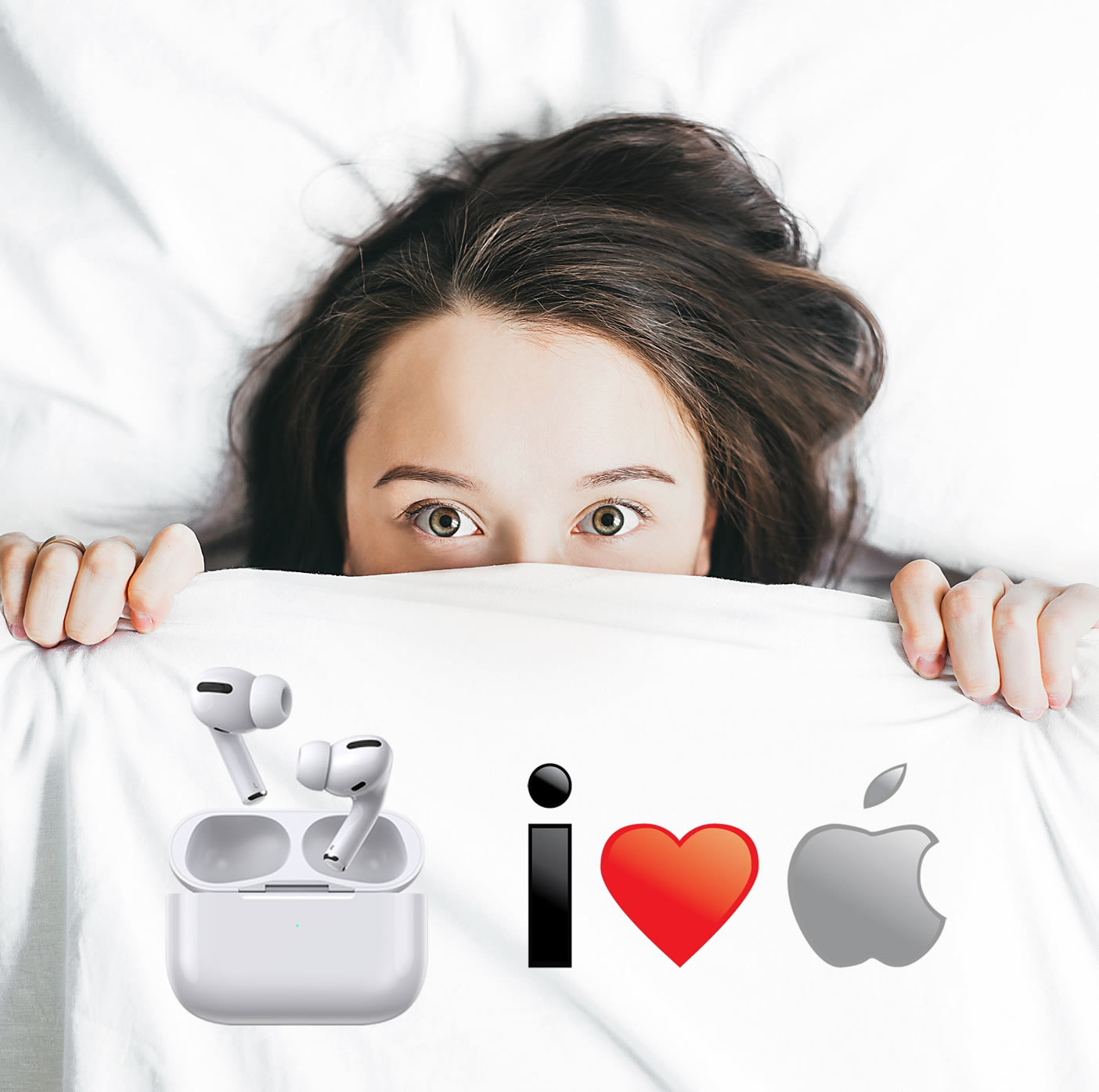 I take a look at the hidden AirPods Pro controls and uncover a host of things that you never knew about Apple's latest earbuds!
As well as exploring my personal experience with Apple's new noise-cancelling Airpods. I take a look at the intuitive AirPods Pro controls and the different noise-cancelling modes that these wireless earbuds provide.
My research revealed some astonishing findings, from using your AirPods Pro as a spying device, the ability to change the control force and the legality of using headphones whilst driving, to the noise cancellation performance, the Apple Airpod's v Sony WF-1000XM3, setting up the control force correctly and how to spot a fake
Top Ten Tips that you probably didn't know about the Apple Airpod, plus their controls and functionality.
How to set up the Control Force correctly
Is it legal to use Headphones Whilst Driving?
What is it like to drive with Noise Cancelling Headphones?
How to track your Misplaced AirPods
Why are Airpods are so sexy?
The correct way to remove your Airpods from their case.
Which is better, the Apple Airpod's v Sony WF-1000XM3?
Are Airpods Pro as comfortable as Apple's hype?
How to spot a fake Airpod
Using AirPods as a spying device!
How to operate the Airpods Pro controls and Noise Cancellation Modes
How do you set up your AirPods and connect them to your iPhone or Apple device?
As expected, setting up the AirPods Pro on your iPhone is very intuitive and seamless. Apple users benefit from both the same company designing the hardware and writing the software. The two together are seamless.
To set up Apple Airpods Pro first make sure that your device; iPhone, Ipad, Apple Watch, has the latest IOS software version and follow the steps provided by the Apple support website

How to customise your AirPods Pro Controls Force Sensor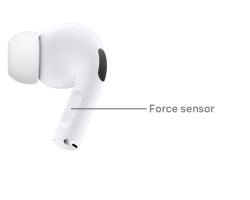 The AirPods Pro stems contain a Force Sensor that offers enhanced controls compared to the double-tap of the previous model. You can customise the AirPods Pro controls including the press speed, press duration, and even what the left and right Force Sensors do.
We'll look below at three ways to switch between noise cancellation, Transparency, and off, how to customise your Force Sensors including press speed and press duration, and how to enable noise cancellation when using just one AirPod Pro.
Customising AirPods Pro 'Force Sensors', left and right.
Go to Settings > Bluetooth Settings on your iPhone
Ensure your AirPods Pro's are connected and tap the "i"
Tap the left or right under 'PRESS AND HOLD AIRPODS'
Choose if your AirPod Force Sensor activates the Noise Control or Siri
You can also choose to include 'Off' in the Noise Control controls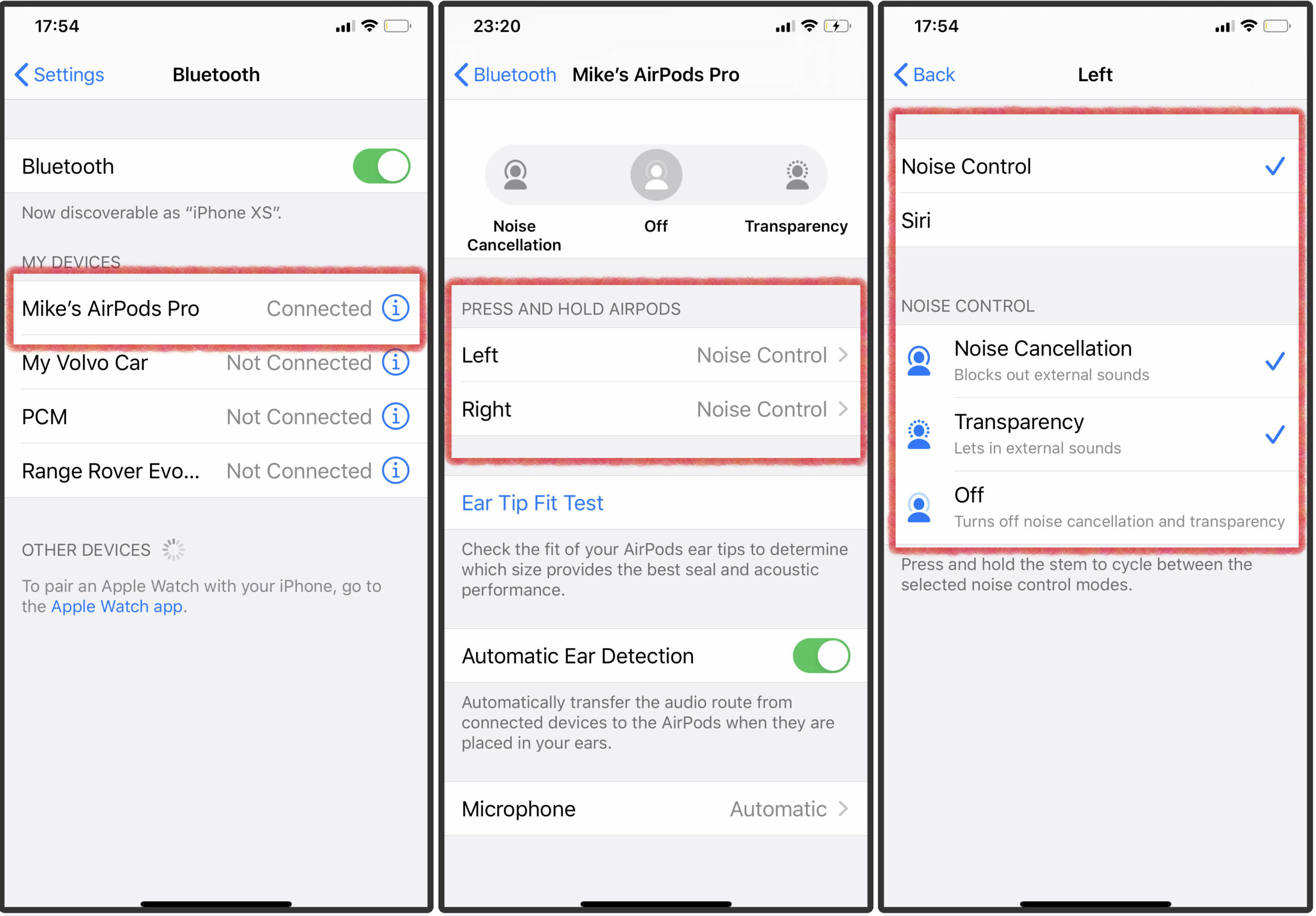 How to customise the accessibility control 'Press Speed' and 'Duration' of your AirPods Pro. ie. How quickly the controls respond.
Go to Settings and select 'Accessibility'
Scroll down and select 'AirPods'
Choose a 'Press Speed' from either default, slow or slowest
Choose 'Press and Hold Duration' of either default, short or shortest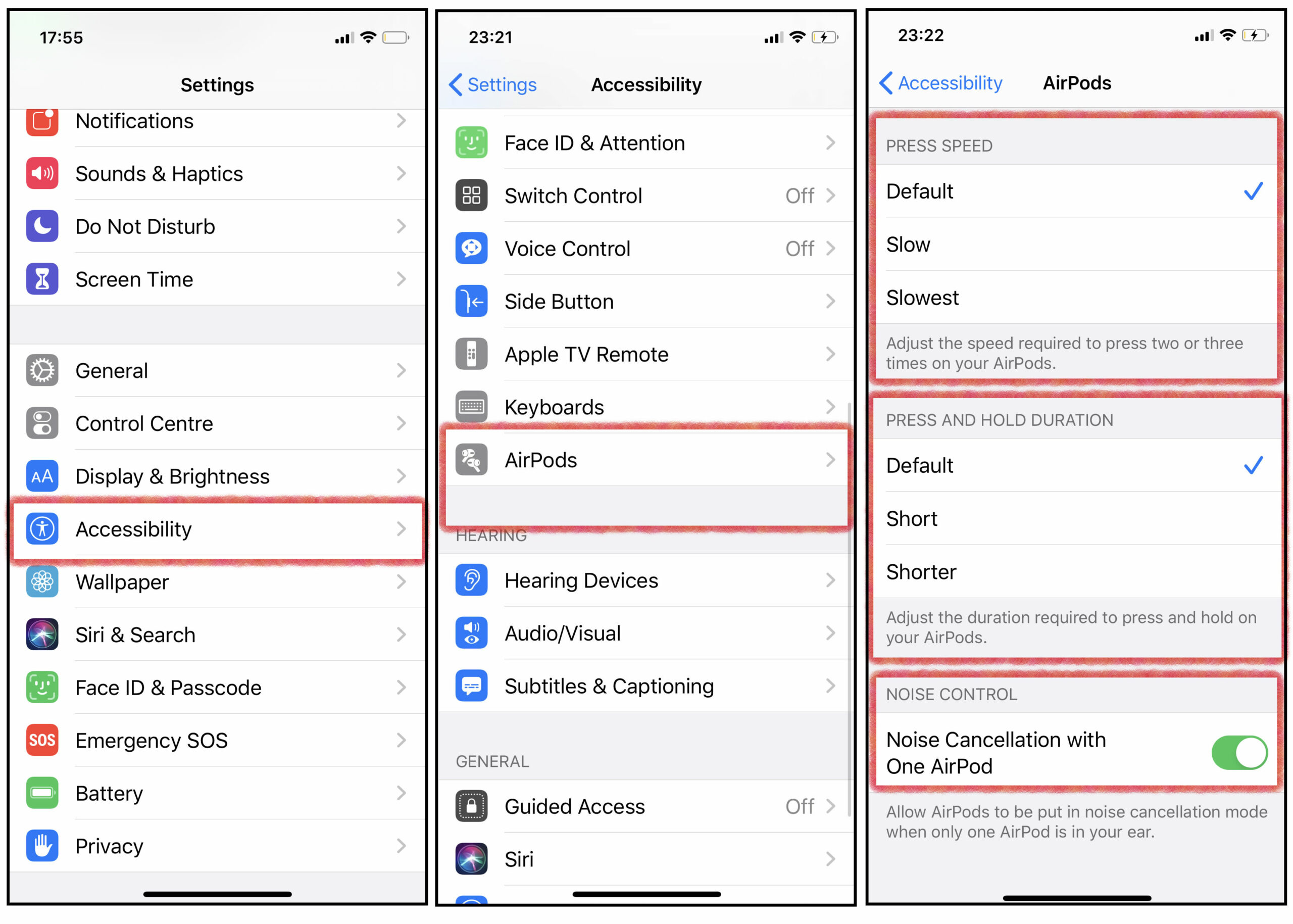 Active Noise Cancellation Options with one AirPod
By default, the noise cancellation only works if you are wearing both Airpods. To enable the use of noise cancellation in one airpod only, under the heading 'NOISE CONTROL', you can toggle the 'Noise Cancellation with One AirPod' option to on. This could be used to protect the sensitive or damaged ear from loud road noise for example.
Why are Airpods are so sexy?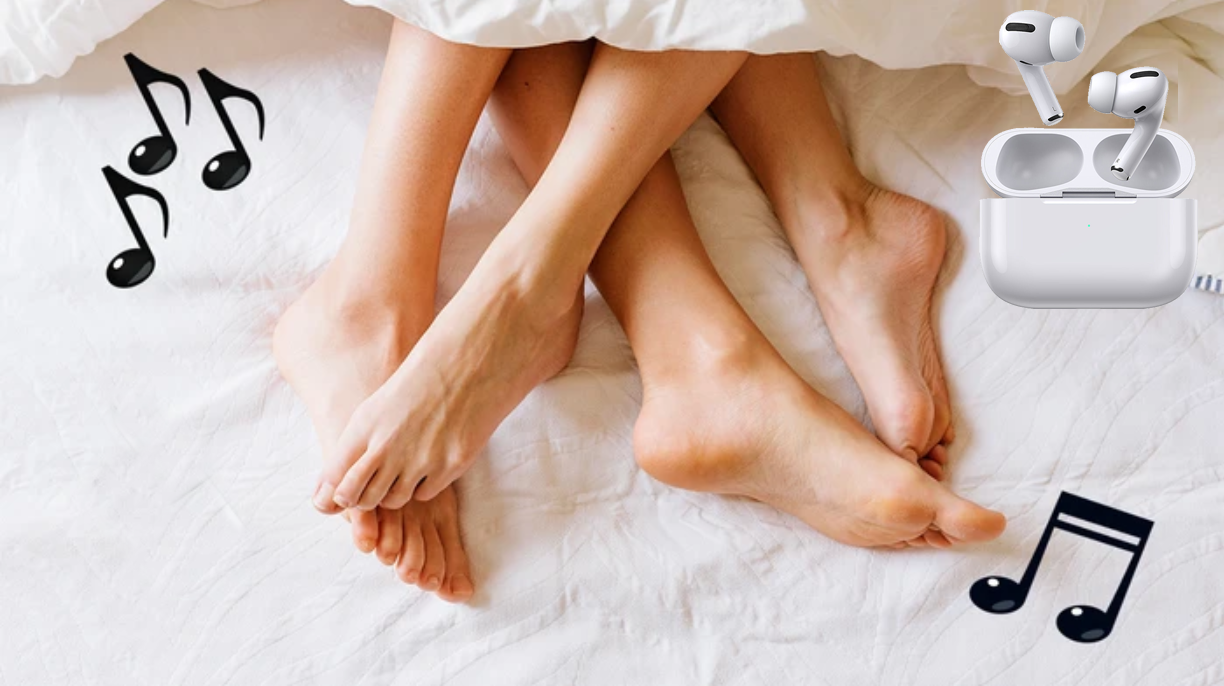 Well, as soon as you take your AirPods out of the case, they switch on and are ready to use. When you put them in your ears, your AirPods automatically play the audio from your device. If you take an AirPod out, audio pauses. Take them both out and audio stops. If you're listening with one AirPod and you take it out, it immediately pauses what you were playing. If you put it back in your ear within 15 seconds, play resumes automatically. The design too, of the case and the earbuds themselves you can tell, has been honed to perfection. They feel gorgeous to hold and wear. Furthermore, just the act of removing the airpods from the case and replacing them is strangely addictive. Tiny magnets lock the earbuds in place. Just so clever & sexy!
And if you really don't think that all this mounts up to being 'sexy', then check out the article by Alex Zaragoza on what people get up to when wearing AirPods!
What is it like to drive with Noise Cancelling Headphones?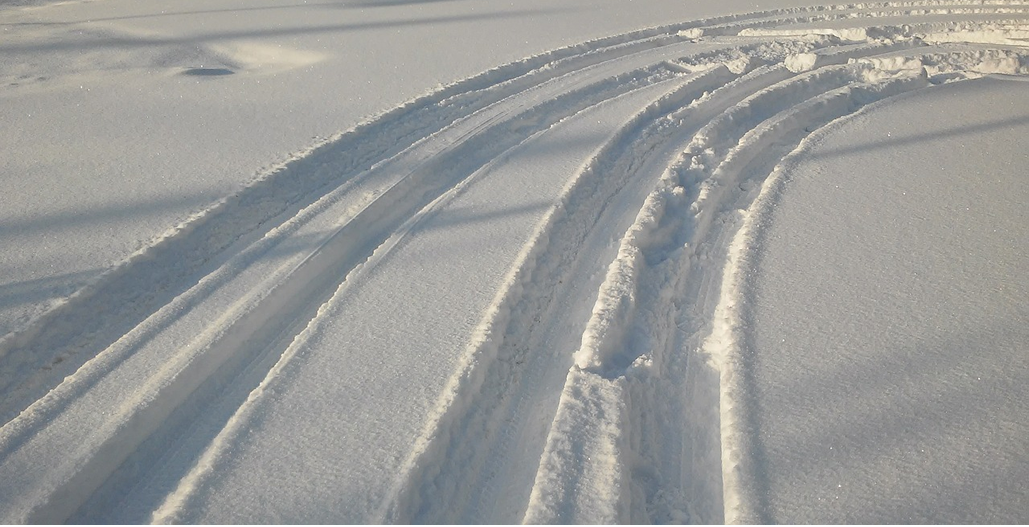 When you switch the control to noise cancellation, it feels like magic! Noise-cancelling headphones, in particular, the Apple Airpod Pros will immediately cancel out continuous noise road noise and the deep rumble associated with motorway journeys. As soon as you switch to noise-cancelling mode any continuous sound just falls away! Similar to that slightly eerie feeling when driving a familiar road after heavy snowfall (not very common in the UK), all the usual surrounding noise is absorbed.

You can, of course, use the noise-cancelling benefit without actually playing music, and modulating sounds like a car horns or passenger speech can still be heard through the earbuds.

Once you do play music through them however, you can play it at a quieter volume, so long motorway Journeys are more relaxed and your ears are not exposed to that loud motorway noise. My findings are that you reach your destination in a much more relaxed state.

---
Is it safe to drive with noise-cancelling headphones?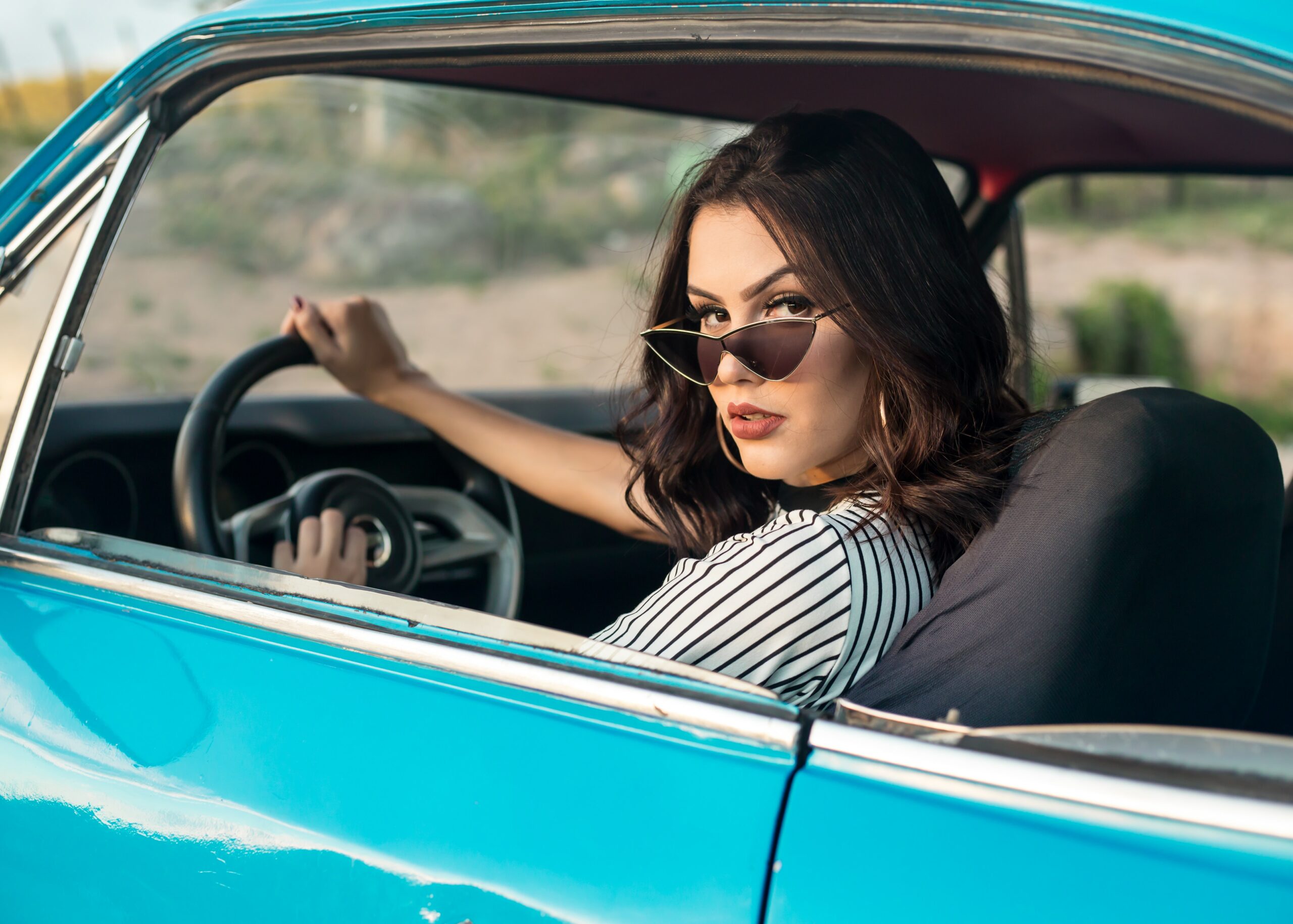 In the UK, it is perfectly legal to drive while wearing noise-cancelling headphones, but if the police believe a driver was distracted or not in full control of their vehicle, the driver could be stopped and penalised.
ROSPA , The Royal Society for the Prevention of Accidents provide a road safety fact sheet Headphones as a Driving Distraction

For example, In 2016, there were 2,886 road crashes in Britain in which distraction in the vehicle was deemed a contributory factor, making up 3% of all road accidents. This included 85 fatal accidents and 441 accidents in which someone was seriously injured.

Research has indicated that the reduction of vehicle and roadway sounds can lead drivers to underestimate vehicle speed both in the laboratory and on the road, and when driving during the day and at night time.
Siri, where are my headphones? Tips on how to track your Airpods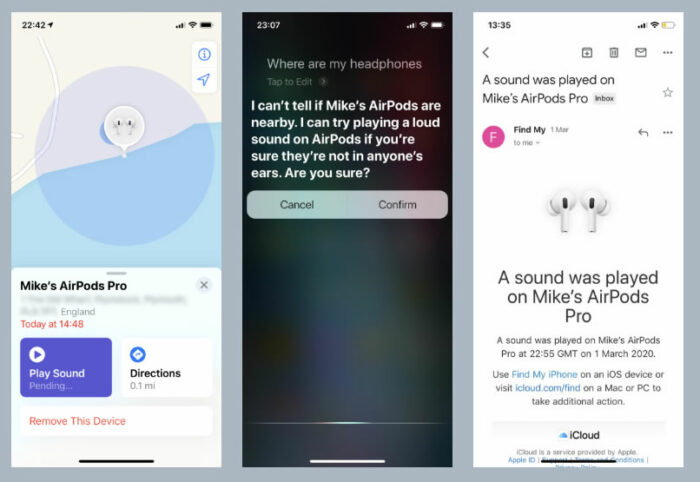 They think of everything, don't they! Your AirPods Pro can be tracked on Apple's 'Find My' app! So, if you misplace your earbuds, open the app and it will display a map showing the location of your headphones.
Or simply ask Siri 'Where are my AirPods or headphones? Siri will try and ping them for you, with a progressively increasing level of the beep. They start quietly at first in case they are in your or someone else's ears! Again a broader map showing the main location of your headphones is offered should you need it.
Note: One slight drawback, however, is that I found that the audio ping will only work when the buds are out of their case.
The correct way to remove your Airpods from their case?
At first, you may think that there is a design flaw? If you suffer from dry hands or fingers then you may find that you cannot grip the Airpods when attempting to remove them from the case? The answer, of course, is simple, just reach passed the either of the earbuds and pull them towards you. You will feel the earbud easily roll out of the case in a satisfying manner and when returning them to the case they snap back in an equally gratifying manner.
Which is better, the Sony WF-1000XM3's or the Apple AirPod's Pro?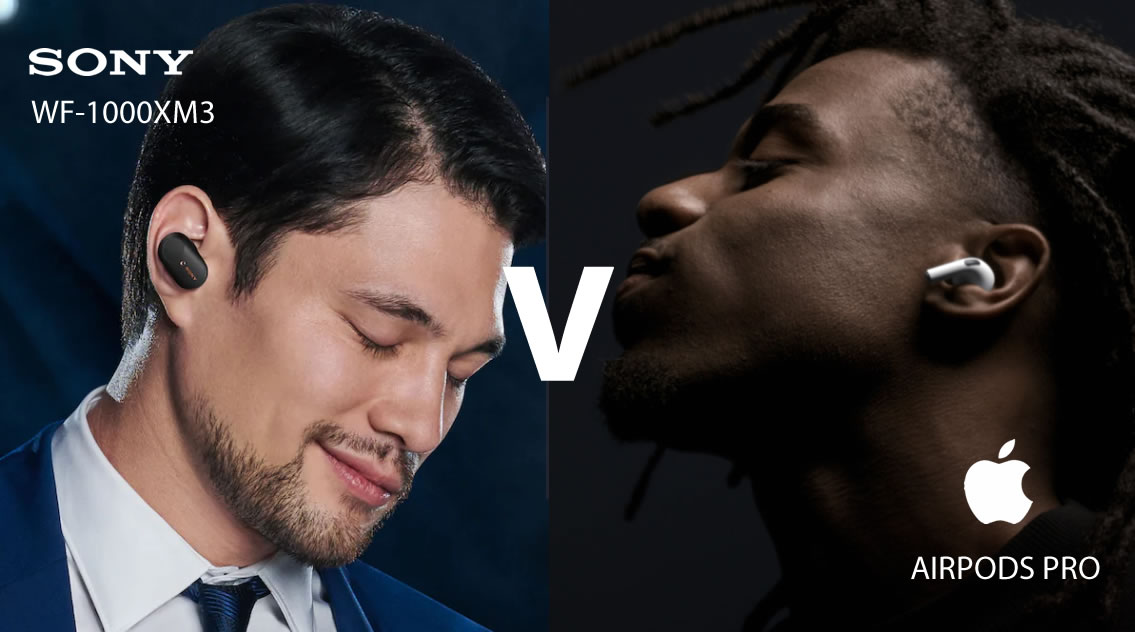 There are many in-depth reviews online, The consensus is that the Sony WF-1000XM3's sound quality is generally better and has a more in-depth bass than the AirPod's Pro. The noise-cancelling mode is just as effective as that of the AirPods Pro and Sony's battery life is rated a little higher. However with a staggering low charge time of 5 mins for 1 hour of play for Apple, and 10 Mins for 1.5 hours for the Sony, playtime is never far away.

What Hifi provide an in-depth review from an audio perspective but fail to mention phone quality. However, the AirPod's Pro are considered better for making phone calls, look sleeker and create a generally more immersive sound. If you are using an iPhone, then the software & hardware interaction is more seamless too with the Apple product.
So are Apple Airpods Pro as comfortable as they say they are?
Apple advertising states the following:-
We refined the details of comfort, creating a new class of in-ear headphones with a customisable fit that forms an exceptional seal for Active Noise Cancellation. You'll feel your music, not your headphones.'
Is this Airpod comfort claim false advertising, hype and buzzwords from Apple?
Having tried the Airpods for two months now, I have to say that what appears to be a 'sales pitch' on Apple's part, turns out to be a surprisingly a true statement of fact. I have to completely agree with what their advertising claims, you do feel the music and not your headphones. Compared to every other earbud that I have used before, you do feel that they are a new class of in-ear headphone.
Apple provides 3 different sizes of ear cups, I use the medium size ear cups and they provide a good seal for me.
The truth is, that of all the in-ear headphones that I have tried over the years these are by far the most comfortable, I have to reach up sometimes to check that you are still wearing them.
Are my AirPods Pro Real or Fake?
There are a myriad of fake iPhone products on the market and the Apple AirPods proves no exception. To see if your AirPods Pro are original or fake, there is a good article here, or follow these steps:-
Ensure you are using IOS 13.
Goto Settings > General > About
Scroll down to SEID & EID and Open the case of your AirPods
Your 'Name' AirPods Pro will appear under these settings
Tap through to verify the Manufacturer & Serial Number.
Compare with the Serial Number on your original box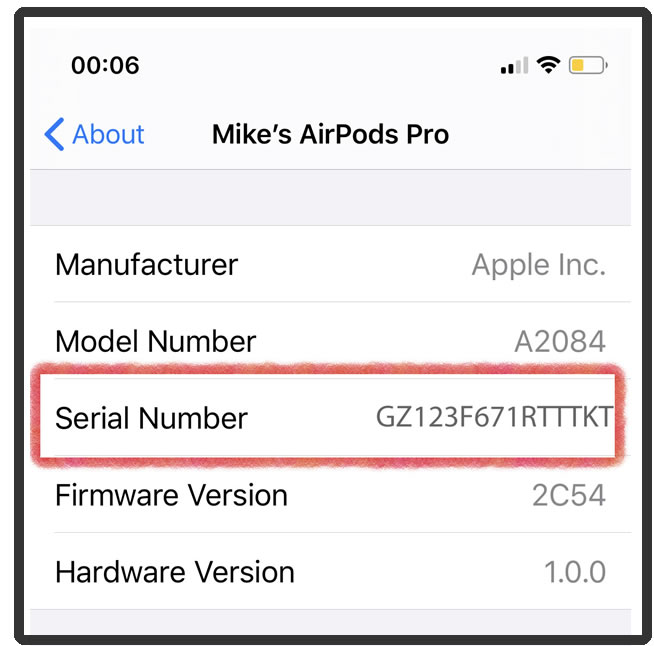 AirPods Pro as a Spying Device?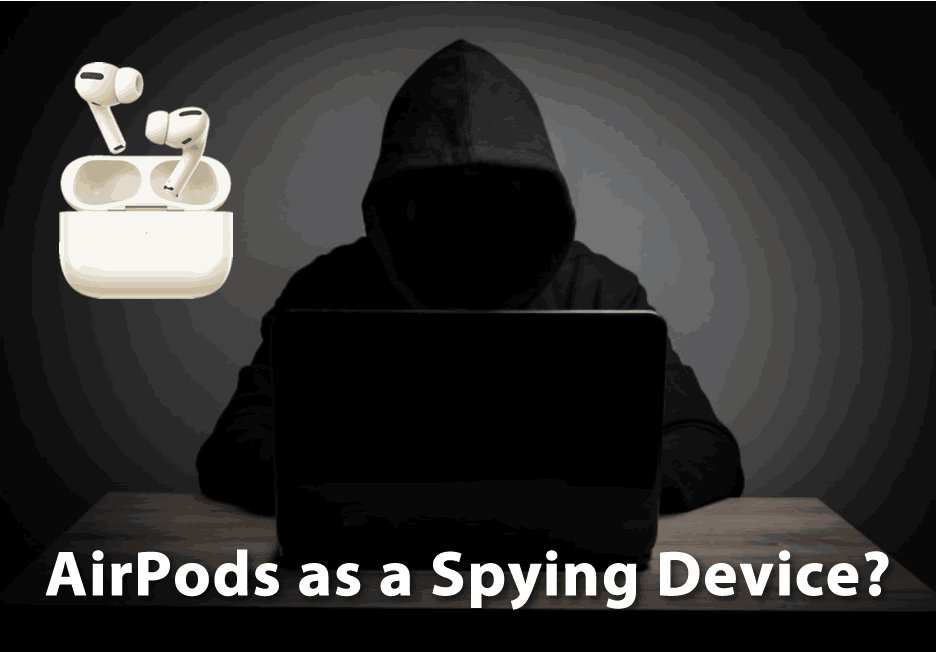 The iPhone really can be used as the eavesdropping, tracking and surveillance device that we all thought the KGB, MI5 & the CIA were using in the 60 & the '70s.
Apple's AirPods have a Live Listen feature which was added last September when Apple released the IOS 12 to benefit those with hearing difficulties. It allows the iPhone to be used as a directional microphone and the Airpod's as a remote listening device to stream audio.
Apple has always been very strong on privacy, so to inadvertently provide a feature that may potentially be misused for covert surveillance and to spy on conversations may not quite sit right with their ethos. In many ways, though it's no different to the covert pictures that can be taken with any smartphone. Audio recorders come in a myriad of sizes and recording capacities, these too can very easily be set to record and left to surreptitiously eavesdrop. We would not recommend any of these activities, for your own mental and moral well being!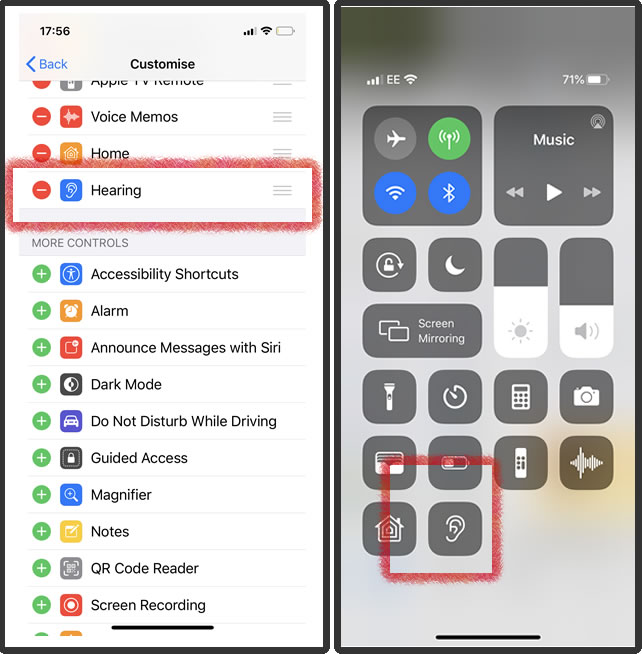 To activate the 'Live Listen' feature:-
Go to Settings > Control Centre > Customise Controls.
Ensure the Hearing Control is included in the control screen by hitting the '+' Sign.
The Live Listen feature will now be available in your pulldown control Centre. Tap the 'Ear' Icon and follow the onscreen instructions.

AirPods Conclusion
For all the reasons listed above the AirPods Pro are a triumph, their inner complexity and outer design make them a true technological feat of engineering. From their aesthetics, hardware, software, functionality and control, everything combines to create a truly, sexy product!
Cover Photo by Alexandra Gorn on Unsplash, Girl in car photo by Cleyton Ewerton on Unsplash Spying Photo by Freepix.com