Notice: Trying to access array offset on value of type bool in /var/www/html/wp-content/themes/tech-stuff/includes/aq_resizer.php on line 98 Notice: Trying to access array offset on value of type bool in /var/www/html/wp-content/themes/tech-stuff/includes/aq_resizer.php on line 99
Signup to receive the online magazine here
Tech Stuff is dedicated to the latest business technology products for the home & office - updated monthly - unsubscribe at any time - keep in touch - FREE for early adopters - plus a chance to win a funky robot!
SIMPLE SIGNUP HERE
The Technology Behind Dahle Shredding Solutions
19-Feb-21
Technically, there is no legal protection against any documentation or information that is located in the trash. If individuals want to find out information from you, finding top-secret documentation is the way they'll do it. This could lead to stolen business ideas or even identity theft.
Information in the wrong hands can lead to some not so pleasant consequences. If you haven't invested in a proper shredder, your documents could be found by the wrong person.

Business owners, financial organizations, and medical providers have a duty to protect their business and client's financial and personal information by adequately shredding their documentation.
German Engineering within Dahle Shredders
With over 80 years of experience, this German-engineered brand has established a stellar reputation for creating innovative products that customers can trust.
Wilhelm Dahle began the company in 1930. He produced steel cutting disks that were used to sharpen pencils. Their product range has dramatically increased since that time, and the company now produces scissors, shredders, cutting mats, and trimmers.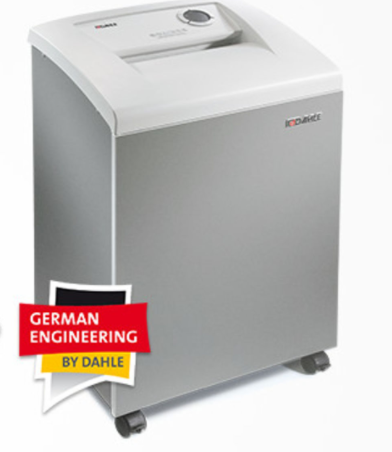 Customers trust Dahle because of their customer service and dedication to providing the best, high-quality office products and machinery. The shredders produced are manufactured out of Germany and use the finest materials, such as cutting cylinders created from durable German
Solingen steel.
What makes Dahle Shredders different?
Dahle does not create their products to be like everyone other company. Instead, they use an innovative design, including safety features, and provide cutting-edge technology to construct a machine that you can't find anywhere else. The benefits of their appliances, from the dust filtration system and electronic sensing protection to their energy-saving technology, allow them to always be one step ahead of their competition.
Main Features of Dahle Shredders
There are many benefits to using Dahle Shredders. Users worldwide choose Dahle to be their number one choice for shredding solutions for various reasons, from the quality to selection features Dahle offers.
Quality: Dahle has been in business for over 80 years. They have the experience and know-how to make top-of-the-line products that are efficient, fast, and include cutting edge technology for convenience and usability.
Support: When you purchase a Dahle product, you're buying a lifetime of customer support for your machine. Their team of professionals offers technical support at any time over the phone. Most Dahle products include a two-year guarantee that your shredders will be free of manufacturing defects and a lifetime guarantee on cutting cylinders.
Selection: Dahle offers the most extensive shredding machine options. Whether you run a business of one or manage a national corporation, Dahle has a shredding solution for you. Dahle can meet your needs based on how many people are in your organization, how often you'll use your shredder, and the level of security needed.
Dust Filtration System: A common health hazard of office machinery is the indoor air pollution created from machines like printers, copiers, and document shredders. Those air particles are not suitable for your health. Dahle includes a dust filtration system that collects 98% of fine dust emitted from its shredding machines.
Oil-Free Shredding: Dahle shredders don't require any added oil for optimal performance, saving your organization time and money.
Applications and Ranges of Dahle Shredders
There is a wide variety of Dahle shredders to choose from to accommodate small teams or large corporations. Check out the various Dahle Shredders solutions that are currently available.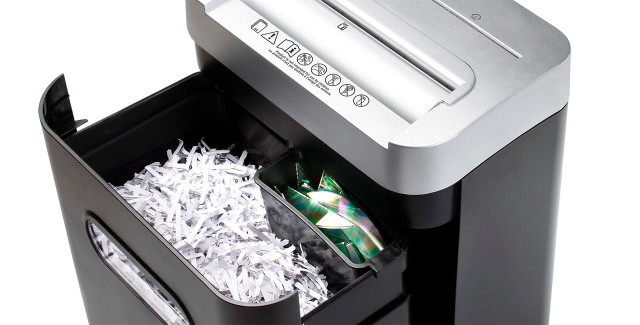 Deskside Shredders are perfect for a small office situation or even in your own home. Their compact size allows for flexibility in a small space. Deskside Shredders are ideal for any financial, medical, or tax information you might need to shred. Deskside shredders save space, are easy to maintain, and are very quiet. The deskside shredder's standout qualities include added thermal protection to prevent overheating, built-in jam protection, and the variety of sizes available.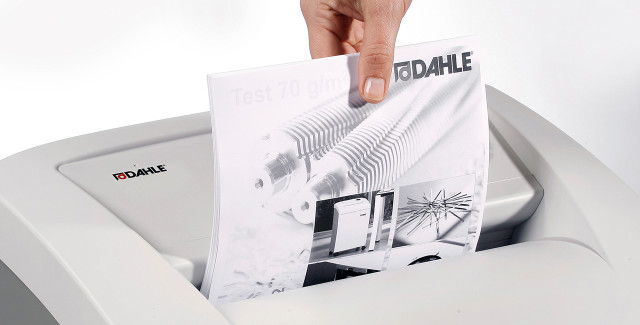 Small Office Shredders are an excellent solution for small offices or small teams of employees. It's quiet, so it will not disturb your workflow. It's perfect for destroying personal records, tax, or financial information. Small office shredders are high-quality and involve minimal effort to use. Some standout qualities of this shredder include its oil-free operation, CleanTEC dust filtration, automatic grip protection, and its smart power energy management so you can ensure you're not spending a fortune on your electric bill.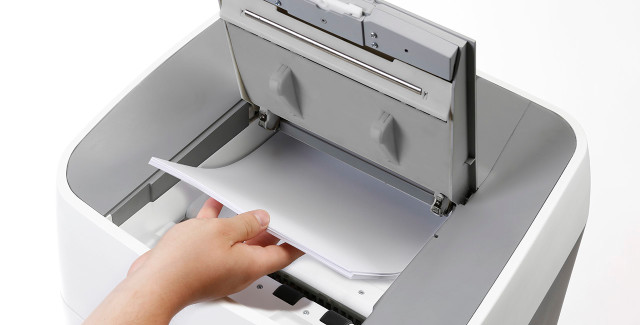 If you're looking for a way to shred a lot of paper in a short amount of time, an auto-feed shredder is a great choice. This automatic feeder can take up to 300 sheets at one time without any problems. This shredder's standout features include its speed to process multiple documents at one time, oil-free operation, and automatic jam protection to ensure the job is always completed.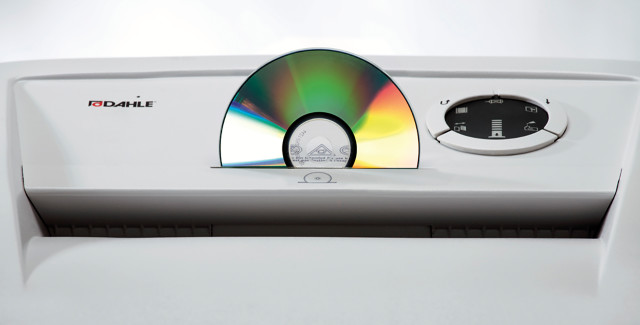 Office shredders are perfect for busy offices with 3-5 regular users. The office shredder can hold up to 30 gallons of waste at one time. It offers many options and convenience features to ensure a smooth shredding process, including its CleanTEC dust filtration, oil-free operation, and Trident Grip automatic jam protection.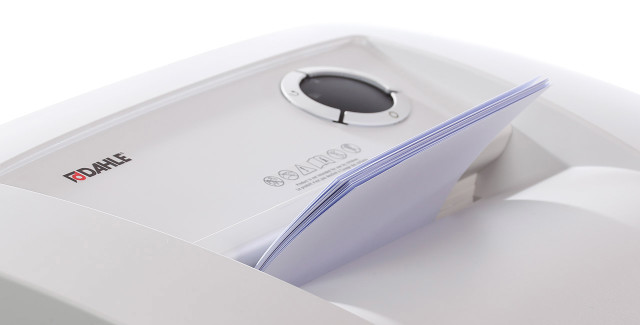 This machine paper cutter provides the ultimate in waste capacity, power, and convenience features, with 45 gallons of waste able to be held at one time. If you run a busy office, this is your machine of choice. From their automatic jam protection to fast shred time, your office will be able to shred a large volume of documents with the Department Shredder.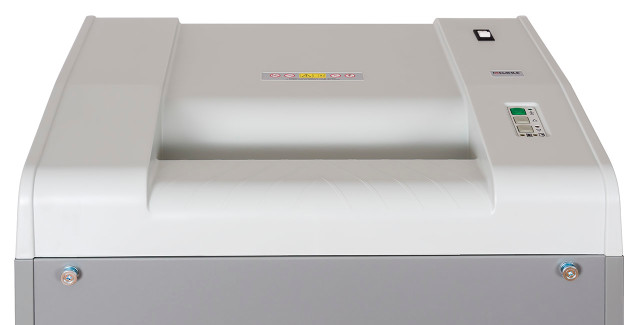 High-Security Shredders are designed for federal, state, local government, military, or high technology companies to ensure your documents are completely destroyed. These High- Security shredders are NSA (National Security Agency), CSS (Central Security Service) approved and designed for precision when it relates to shredding documents.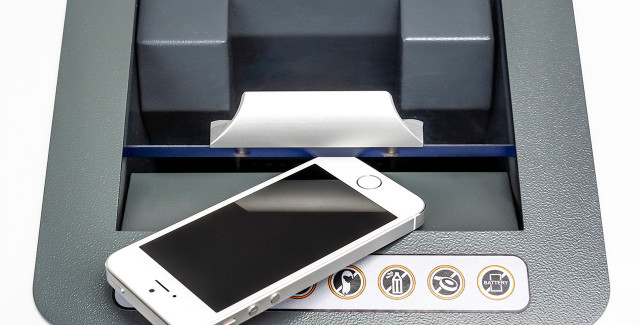 If you need to shred more than paper, like cell phones or hard drives, a Digital Media Shredder is suitable for you. This incredibly powerful machine is activated using a one-click button. It ensures that your media is never again seen with its automatic jam protection and chain-driven
motor. The digital media shredder is one of the most powerful shredders on the market, with multiple different security levels available.
Investing in Dahle Shredding Solutions
Dahle is a fascinating company because of its cutting-edge technology, safety features, and variety of instruments to choose from. Investing in a Dahle shredder is the right investment if you want a safe shredding solution to protect your customers, employees, and business information from landing in the wrong hands.