Notice: Trying to access array offset on value of type bool in /var/www/html/wp-content/themes/tech-stuff/includes/aq_resizer.php on line 98 Notice: Trying to access array offset on value of type bool in /var/www/html/wp-content/themes/tech-stuff/includes/aq_resizer.php on line 99
Signup to receive the online magazine here
Tech Stuff is dedicated to the latest business technology products for the home & office - updated monthly - unsubscribe at any time - keep in touch - FREE for early adopters - plus a chance to win a funky robot!
SIMPLE SIGNUP HERE
Philips release new SmartMike – record and identify two speakers at once using AI technology!
27-Oct-20
Philips, are happy to announce the release of the new Philips SmartMike Duo USB. The Philips SmartMike Duo uses unique patented artificial intelligence (AI) technology to identify and separate speakers during a recording.
Equipped with these capabilities the Philips SmartMike Duo creates two clear distinct audio streams, one for each speaker even when the speakers are talking simultaneously.

All of that is packed into one compact mobile device that can be easily taken to one-on-one conversations in any different location such as meeting rooms, coffee shops, or restaurants.
Apart from recording meetings between colleagues, it is also ideal for any consultant and client situation, such as legal consultation or an insurance contract closing meeting. Combined with advanced speech-to-text technologies, the SmartMike is the ideal solution for creating accurate transcriptions.
SmartMike Features and Benefits
Studio Quality Microphone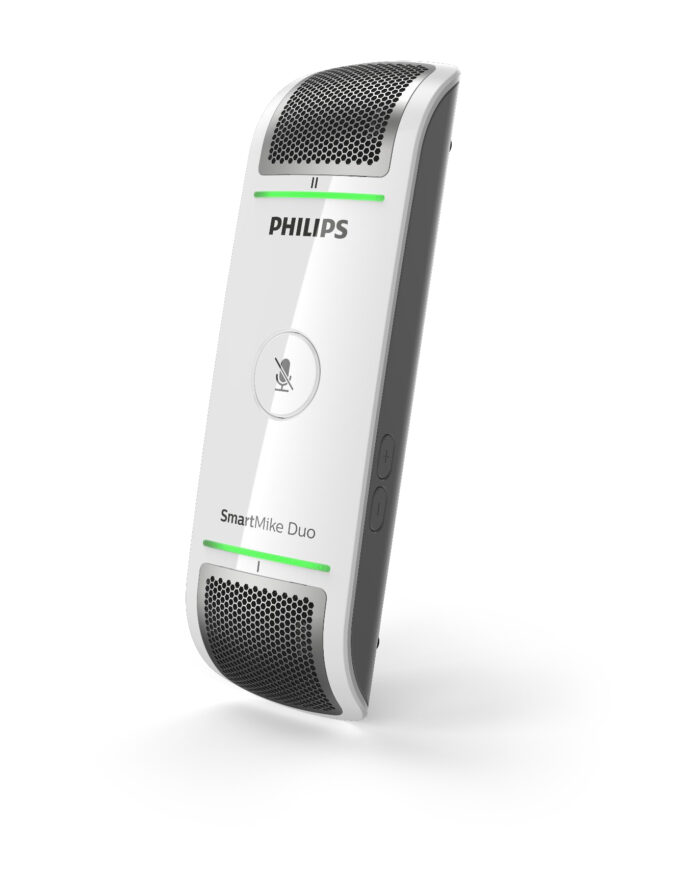 The SmartMike Duo comes with two studio-quality microphones and built-in dual-layer noise reduction filters for clearest recordings and the most accurate speech recognition results
Patented Smart AI Microphone
The smart AI microphone technology within the SmartMike identifies each speaker immediately and creates two clear separate audio streams already throughout the recording. This AI conversation solution creates extremely natural and smooth sounding recordings, perfect for automatic generation
of meeting protocols.
Ideal for Transcription and Speech Recognition
The separate audio voice data streams allow for an easy and quick transcription, whether you are using a typist or a speech-to-text solution. Even passages where both speakers spoke simultaneously are easily distinguishable. This makes sure no important information is lost.
Natural Sounding Audio
Patented AI algorithms running inside the device enable the inline separation of two speakers even in noisier environments. This allows for more natural voice quality for excellent speech recognition results. The natural sound of the audio allows for comfortable listening and easy transcription by your typist.
Quick Proof
Forgot what was mentioned during a meeting? Need to prove that a certain person said a certain thing? It is much easier and quicker to read or search through and share a transcript of a meeting than listening to an entire recording.
Mobile and Compact
The SmartMike allows you to record two speakers accurately with just one device. The microphone can be placed naturally on the table and does not get in the way of a conversation. Due to its compact size, it can also easily be transported or taken to customer meetings.
Free Movement
You can move closer or further away from the microphone without compromising on quality. The microphone allows you to maintain natural and comfortable meeting and conversation behaviours. No need to directly speak into the microphone.
Hygienic Surface
The hygienic surface physically hinders the colonization of germs and thus improves the efficiency of the usual measures for disinfecting. The polished, high-quality surface also makes the device non-sensitive to touch noises and fingerprints.
LED Indicators, Mute Button and Loudspeaker
The SmartMike Duo features two LED indicators which clearly signal whether the microphone is on or muted. While speaking, the green light signals that the voice of the respective speaker is currently being recorded. An included loudspeaker provides reliable and clear playback.
SmartMike Availability
The first packages of the SmartMike Duo USB PSM1000/00 and PSM1010/00 are due to be available from Nov 2020 onwards.
The SmartMike SDK V4.3.423.41 will be available for download for registered SmartMike SDK partners from the Dictation Hardware SDK Support pages (partner login required) from Nov 2020 onwards.