Notice: Trying to access array offset on value of type bool in /var/www/html/wp-content/themes/tech-stuff/includes/aq_resizer.php on line 98 Notice: Trying to access array offset on value of type bool in /var/www/html/wp-content/themes/tech-stuff/includes/aq_resizer.php on line 99
Signup to receive the online magazine here
Tech Stuff is dedicated to the latest business technology products for the home & office - updated monthly - unsubscribe at any time - keep in touch - FREE for early adopters - plus a chance to win a funky robot!
SIMPLE SIGNUP HERE
Make your mark and increase efficiency with the new kits from Dymo!
7-Jan-20
Dymo are industry leaders in shaping the way we label. They offer a wide range of labelling products to fulfil all labelling needs.
Stemming from the success of the LabelManager range, Dymo have recently launched a number of bundle kits to ensure you have all you need to produce professional labels anywhere.
The Dymo Labelling Kits
LabelManager 280 Kit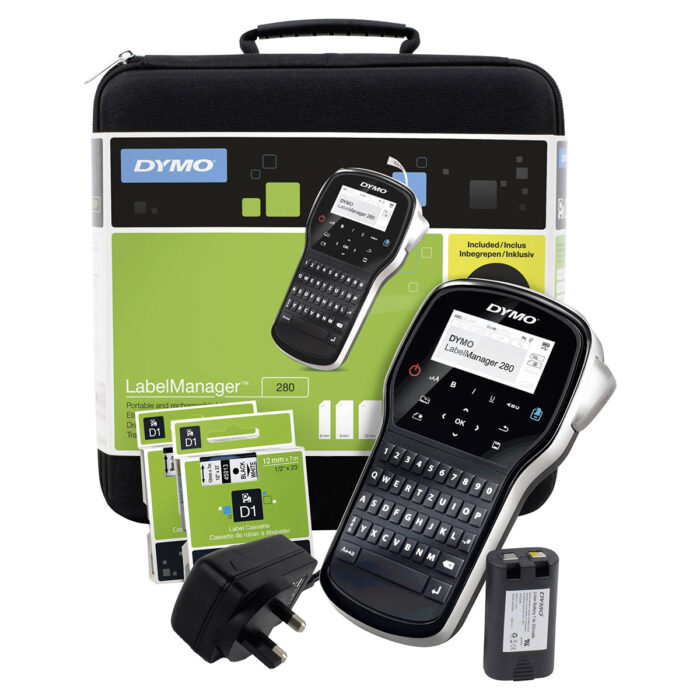 Customise labels with any fonts and graphics on your computer via PC or Mac connection, printing 6mm, 9mm or 12mm labels in multiple colours! The QWERTY keyboard assists fast typing and you can edit text quickly and easily with one-touch fast-formatting keys. A soft carry case, AC adaptor, USB cable and two tapes are included.
Package Includes
LabelManager 280 Label Maker
Rechargeable Battery Pack
USB Cable
D1 Label Cassette,
Black on White, 12mm x 7m
D1 Label Cassette,
Black on Clear, 9mm x 7m
Quick Start Card and
Quick Reference Guide
Carrying Case
Charging Adapter
LabelManager 420P Kit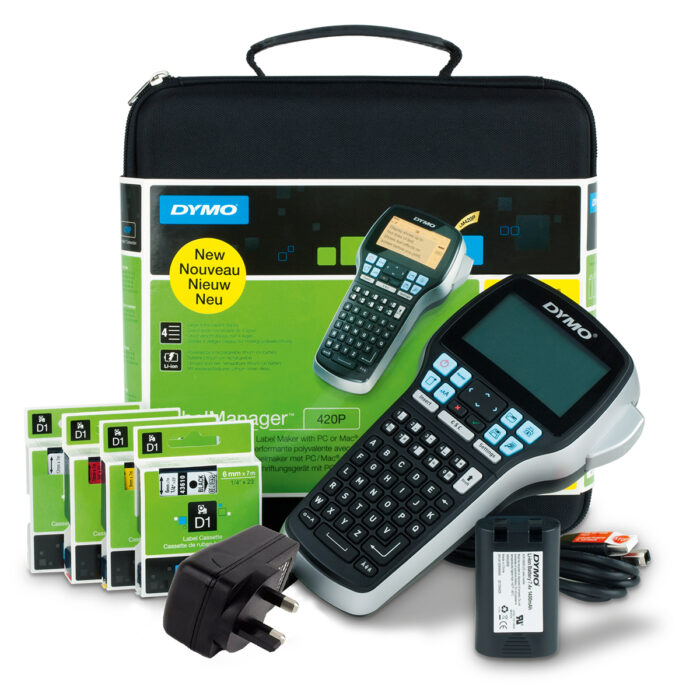 High performance portable label maker with PC or Mac connection and rechargeable battery. See more of your label with a 4 line display and 9mm wide screen. This machine has a ABC style keyboard, prints barcodes and has 325 library of symbols. The 420P Kit comes with a variety of tapes, soft carry case, AC adaptor and USB Cable.
Package Includes
DYMO LabelManager 420P label printer
1 x D1 6mm Black on clear
1 x D1 9mm Black on yellow
1 x D1 12mm Black on white
1 x D1 19mm Black on red
Soft carry case
AC adaptor
USB Cable
LabelManager 210D Kit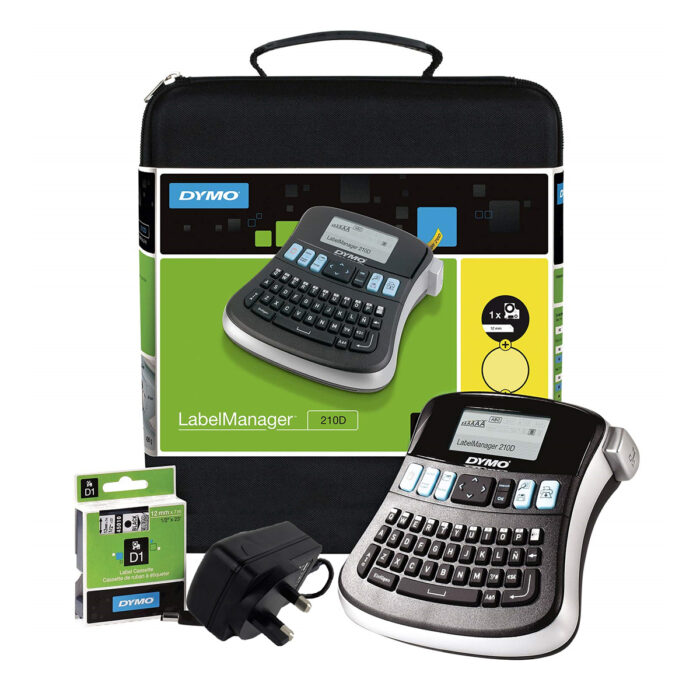 All purpose label maker with large graphical display where you can type text quickly on computer style qwerty keyboard. This machine has a large symbols library of 132 symbols and allows you to create batches of labels quickly – print up to 10 copies of the same label. The 210 Kit comes with 12mm X 3m D1 Black on white tape, 12mm X 7m Black on yellow tape, soft carry case and AC Adaptor. This machine takes 6AA batteries.
Package Includes
LabelManager 210D Label Maker
D1 Starter Label Cassette, Black on White 1/2″ x 10′
D1 Label Cassette, Black on Yellow 1/2″ x 10′
Quick Reference Guide
6 AA Batteries
AC Adapter
Instruction Manual